RICH HAGENSEN and the WAILIN' DADDYS
RICH HAGENSEN AND THE CREW
Singer and guitarist Rich Hagensen is from Campbell River on northern Vancouver Island, B.C. He's played in numerous rock'n'roll, country, instrumental and rockabilly bands on the Island and in Vancouver over the past 40 years. In 2012, Rich's Fireball Records released two CDs: Rich Hagensen and the Wailin' Daddys 'Callin' All Cats' – mostly original rockabilly, rock'n'roll and country swing numbers with some instrumentals, blues and garage rockers thrown in for good measure and Rich Hagensen And The Crew 'Shakin' Up This Town' – an album of rockin' country and folk/protest music. Rich was the lead vocalist and wrote the majority of songs on these CDs.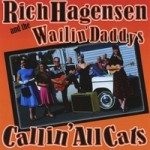 The musicians on the Wailin' Daddys and The Crew bands on these CDs include members of Rich's Vancouver bands Rockin Daddys, Midnite Wailers and The Surfdusters. Legendary Canadian rockabilly guitarist Mark Twang makes an appearance on several songs including his Nervous Fellas band composition 'Wild Wild Baby'. On a live version of the Stoltz Brothers 'Rock-N-Roll Riot', Mark and Rich are joined by fellow Rockin Daddys bassist Kenny "RebelRouser" Wilson and drummer Sandy McSnare who also accompany Rich on some other tunes on the CD. The Midnite Wailers – Gary Sneddon (lead guitar), Dennis Lyne (piano), Marv Brimmage (bass) and Brian McRae (drums) – with guest picker Mark Twang on covers of 'Ready To Rock' and 'Honky Tonk Hardwood Floor' – back Rich up on several rockers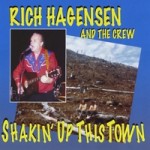 and country boppers from an unreleased 1988 recording session. Other guests on these discs include piano boogie man Mike Van Eyes…The Surfdusters' lead guitarists Ralph Johnston (resonator guitar) and Scott Smith (steel and electric guitar)…mandolin pickers the late great Gord Schultz and Rich's cousin Dale Nygaard…lead electric guitarist Harold Dzielak who played in Rich's Campbell River band Skunk Hollow…and Rich's main squeeze Joanne Banks who joins him on vocals, keyboards and songwriting on some songs. Burnaby singer-songwriter Karen Dean sings backup vocal on two of the protest songs. Hagensen plays acoustic and electric guitar on most tracks and harmonica on 'White River Blues'.
The two bonus tracks on 'Shakin' Up This Town' are original songs featured in the 2014 movie 'The Pristine Coast'. The Pristine Coast': Juggernaut Pictures: juggernautpictures.ca/films/the-pristine-coast
Details on the musicians playing on 'Callin' All Cats' bonus tracks by The Monster Stalkers are below.
Stay tuned for more information on the music and publications of Rich Hagensen at richhagensen.com
THE MONSTER STALKERS
In 2011, Fireball Records released a 7" vinyl EP 'Do The Sasquatch' with three tracks which were also included as bonus cuts on the Rich Hagensen and the Wailin' Daddys 'Callin' All Cats' CD in 2012.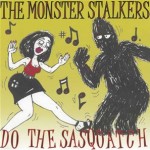 The Monster Stalkers play two garage surf rockers 'Do The Sasquatch' and '(Don't Go To) Forbidden Plateau' sung by Rich Hagensen and cowritten with The Surfdusters' bassist Grant Shankaruk. There's also an instrumental cover of The Wailers 'Wailin' Wolf' with keyboards by Mike Van Eyes; lead guitar by another Surfdusters alumni Mark Brodie and his drummer bandmate from The Metalunas Rod Moore. Rich's daughter Angela makes her recording debut screaming throughout this EP.
ROCKIN DADDYS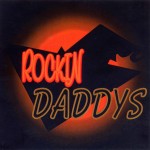 Vancouver, B.C. rockabilly quartet Rockin Daddys formed in 1998 and played many rockin' sets at nightclubs, festivals, sea cruises, car shows and house parties throughout the Vancouver area. Founding members are long term friends and bandmates Mark Twang (lead guitar); Rich Hagensen (vocals and rhythm guitar), and drummer Sandy McSnare. After the release of their Fireball Records CD, standup bassist Andrew Burden was replaced by the king of slap bass Kenny "RebelRouser" Wilson. In 2001, Red Hen Records released the CD 'Showdown – 22 Golden Nuggets From Vancouver/Victoria R.A.N.C.H. Community' which included a wild Rockin Daddys version of Johnny Burnette Trio's 'Tear It Up'.


Rockin Daddys continue into the 21st century to play gigs in Vancouver and on Vancouver Island.
THE SURFDUSTERS
Vancouver's The Surfdusters were Western Canada's premier rock and surf instrumental band. Founded in 1989 by lead guitarist Ralph Johnston and rhythm guitarist Rich Hagensen, The Surfdusters recorded three full length CDs – 'Raincoast Rumble'…'Surf After Dark'…& 'Save The Waves'; one 7" vinyl EP 'Waves Of Pleasure', and were on scores of vinyl and CD instrumental compilations throughout the world. Besides Johnston and Hagensen, the original grouping included bassist Dave Guindon; keyboardist Joanne Banks, and drummer John Hanson. Ex-Powder Blues saxophonist Gordie Bertram occasionally played and recorded with the band and, in 1994, Frank Nichols replaced Hanson on skins. Ralph Johnston, who played on and composed most of The Surfdusters early vinyl and cassette releases and their first CD, left the band in 1995 to form industrial surf band Quonset. In 1996, lead guitarist Mark Brodie recorded and played with the group before leaving to form bands Mark Brodie And The Beaver Patrol and The Metalunas. Scott Smith joined as lead guitarist and Grant Shankaruk also came on board as the new bassist when Guindon bailed out in 1995. This grouping (Smith, Hagensen, Shankaruk, Banks and Nichols) picked up the pace and recorded The Surfdusters second CD in 1998 plus other sessions in 2000 and 2001.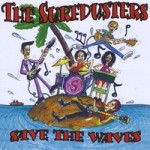 The Surfdusters played mostly around Vancouver where they shared the stage with instrumental kings Dick Dale & The Del-Tones, The Ventures, Shadowy Men On A Shadowy Planet as well as numerous rock'n roll, punk, country swing, and rockabilly bands including Nervous Fellas and Ray Condo & The Ricochets. Highlights were a road trip to North by Northwest in Portland, Oregon and an appearance on Phil Dirt's KFJC surf radio show in San Francisco where they opened for Davie Allan & The Arrows. Another honor was having their original compostion 'Save The Waves' selected as the only Canadian instro on the Rhino Records 1996 'Cowabunga! The Surf Box' 4 CD anthology of the best 1960s to 1990s surf instrumentals. Also, The Surfdusters felt privileged to have 11 of their original instrumentals (all on the Fireball Records 'Save The Waves' CD) included in various episodes of the world's #1 cartoon 'Spongebob Squarepants'.
The Surfdusters continued playing until 2002 with their last live appearance at a CD release party with 7 other instrumental bands on the Fireball Records 'Instrobeat' compilation.
Stay tuned for the full story of The Surfdusters at surfdusters.com